The WHOI Women's Committee
Established in 1973, the Women's Committee at WHOI is an elected committee responsible for considering matters of special concern to women. Each member is charged to make herself aware of pertinent issues and to be accessible to the women around her, to better represent them in the committee.
The eleven-member committee represents women in diverse positions at the Institution: Joint Program Students, Post-docs, members of the Scientific, Technical, and Exempt Administrative Staffs, and members of the Graded Administrative and Research Staffs.  The group meets monthly for discussion of current concerns and for planning occasional seminars and annual activities.
Contact
Contact any member individually, or as a group at womens-committee@whoi.edu. Nominations and elections of new members are held annually and announced in the WHOI Headlines and also through the mailing list women@whoi.edu.
Please note that both lists are for internal (WHOI) use only.  Inquiries from outside the Institution should be directed to the Information Office at information@whoi.edu or to the Human Resources Office at hr@whoi.edu.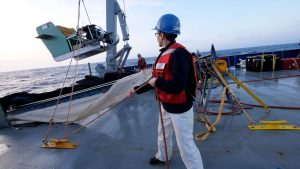 The story of women at sea on WHOI ships began quietly in the early 1950's when the wives of researchers were allowed on ships with their husbands, but not as a science equal. Today, there are many high profile WHOI projects led by woman, including a multi-disciplinary effort to explore, understand and raise awareness of the ocean twilight zone with WHOI Senior Scientist Heidi Sosik as the science lead. WHOI is committed to equality and inclusion, and continues to honor the contributions of female scientists and engineers whose work inspired change and broke through gender barriers.
Read More