Solar energy production at WHOI in REAL-TIME
Check in on our solar production, today and across panel lifetimes:
Solar Installation Clark Rooftop
Update: September 3, 2021
Off-Site Solar Projects
As of May 1, 2017, WHOI is committed to solar shares in a diversity of Community Shared Solar (CSS) projects. Community Shared Solar is a PhotoVoltaic (PV) system hosted by an entity (either public or private) with a suitable roof or parcel of land. Shareholders in the CSS project receive net metering credits generated by the system, which are then credited to their electric bills. This allows participants to lower or even cancel out their electric bill for the life of the lease. CSS is a simple way to go solar and to enjoy all the benefits of solar power without the challenges associated with developing a project on-site. The Woods Hole Oceanographic Institution has contracted approximately 6 MW of off-site solar to offset our carbon footprint.  These projects will decrease our electrical costs by nearly 10%, while supporting regional solar projects.  Many of these projects are mechanically complete, but are awaiting connection to the grid by EverSource.
In addition to off-site solar shares projects, WHOI has been working with our energy consulting firm to investigate rooftop and car-port solar options.  Keep in mind however, that because of WHOI's unique science-centric mission, utilizing rooftops must be strategically analyzed over the long term for anticipatory operational changes.  For example, several of our laboratory buildings have rooftops filled with HVAC equipment to support the work within the building and unfortunately, our warehouse roofs are not structurally capable of the additional loading from a solar array.
As you are aware, WHOI is a non-profit organization and thus doesn't qualify for the federal and state (MA DOER) solar tax incentives offered to state universities and for-profit businesses, institutions and home owners. It's difficult to frame a financial structure for solar when we don't qualify for the 30% discount offered under the current solar programs.  The anticipated SMART program, the new Massachusetts solar incentive program commencing 2018, although offering slightly reduced financial incentives, still doesn't benefit institutions of non-profit status. Thus, WHOI would need to enter into Power Purchase Agreements (PPA's) with for-profit solar vendors. The PPA's offer small financial savings to WHOI but not to the same level we see with energy efficiency projects. WHOI continues to work with our consultants to identify an on-site solar system that has financial benefits needed to move forward.
WHOI's Facility Office is also considering a sizable cogeneration project at the central plant.  Also known as Combined Power + Heat (CHP), it is an energy alternative that could decrease WHOI's energy consumption by 500 kw (Clark Lab's average energy load). WHOI has completed a technical review of electric and thermal load profiles and is now working through the rebate and cost estimate process to determine if the project is financially feasible.
Of course, the cheapest and cleanest energy is the energy not used.  WHOI has completed several large and small energy reduction projects funded through rebate programs and our capital improvement process.  All these projects help to reduce WHOI's energy demands.  We are committed to investigating additional energy reductions, efficiency projects, and renewable assets as a means to improve our energy portfolio.  Our goal is to decrease energy costs on campus, improve efficiencies, and increase alternatives to fossil fuel energy sources.
Update: March 25, 2019
577 solar panels on the roofs of Fye Lab and the McLean building will produce roughly 160,653 kWh of electricity annually – enough to offset the equivalent of driving over 277,750 miles in a gas-powered car. We worked with North Andover, MA-based ReVision Energy [Link: https://www.revisionenergy.com/] to install both of these systems.
When the sun is shining, our rooftop solar arrays produce electricity that is either used in real-time by our facilities, or fed back to the grid where it benefits our community and earns us a credit.
To see what our systems are producing, both today and across their lifetimes, click here:
https://enjoy.solar/WHOI_Fye
https://enjoy.solar/WHOI_McLean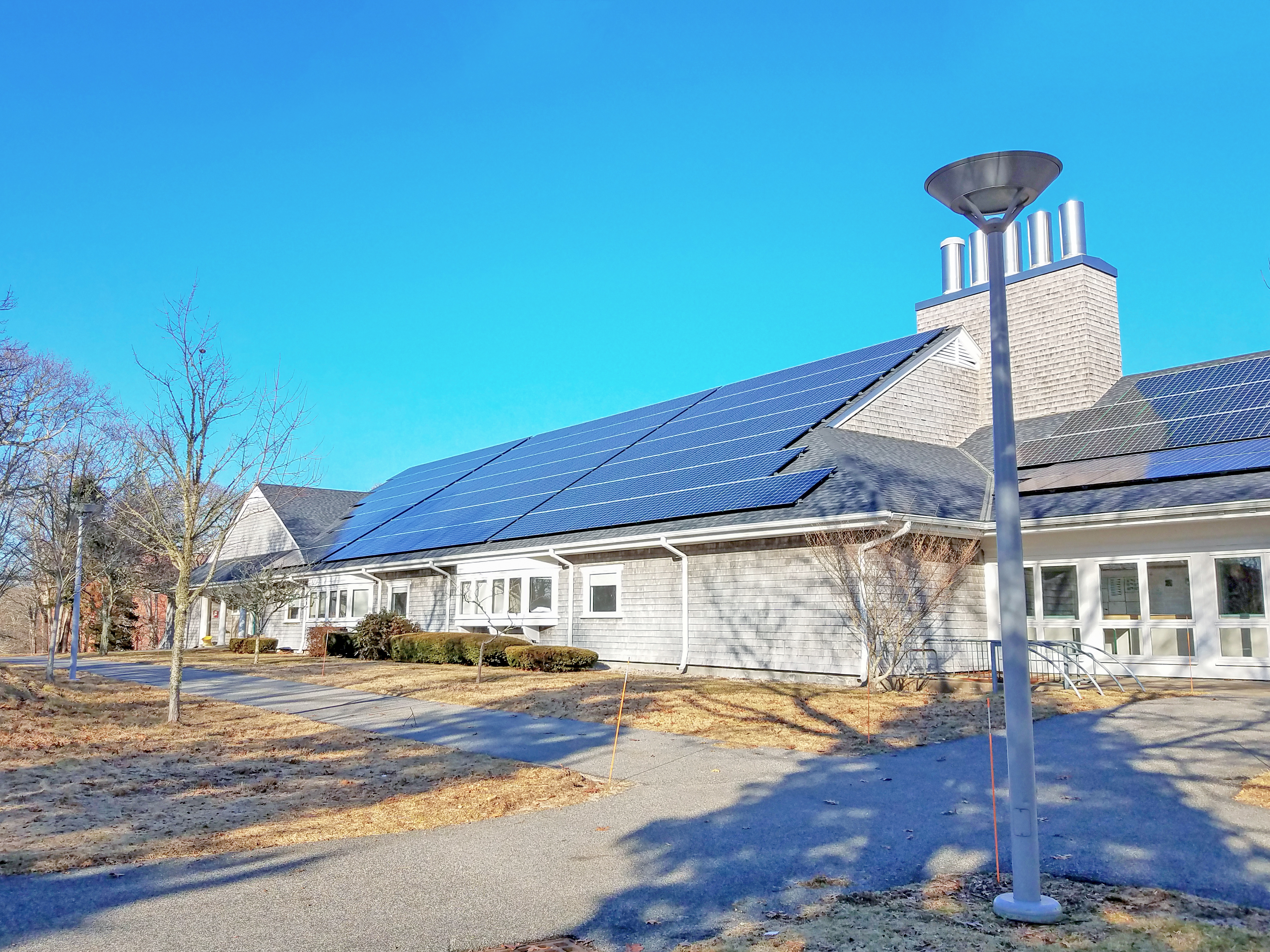 Update: May 17, 2019
Friday afternoon, approximately 20 Woods Hole Oceanographic Institution members joined together at the High Bay for an educational hands-on workshop on solar power.