By Brett Freiburger, WHOI Archives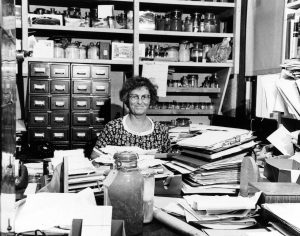 "…it is generally forgotten that that the first Oceanographer of the Navy in modern times was a short, rather shy and prim WAVE Lieutenant j.g…the powerful natural force that is, Mary Sears."
-Roger Revelle, 1980
"She has done as much for the advancement of oceanography as anyone I know."
-Columbus O'Donnell Iselin, c. 1965
Mary Sears was a part of the story of the Woods Hole Oceanographic Institution before the funds for its establishment we even secured.  As a Radcliffe student, earning her A.B., A.M., and Ph. D., Sears began working for the biologist and WHOI founder Henry Bryant Bigelow as a graduate assistant.  During this time, she assisted Bigelow in publishing on a number of marine topics and was present for many of the discussions that not only led to WHOI being established, but also the design and acquisition of the ketch Atlantis, the smaller vessel Asterias, and the construction of the first laboratory.  When funding allowed WHOI to begin year-round operations in 1932, Sears was in the first group of researcher assistants welcomed to the new labs.  The summer stints in Woods Hole were augmented by her time as an instructor at Wellesley College that led to an appointment to study the "guano islands" of Pisco Bay off Peru as the Grant and Faculty Fellow for Wellesley College's Committee on Inter-American Cultural and Artistic Relations.  The time Sears spent here was brief, but eye-opening.  At WHOI, women we not allowed on sea-going vessels under the guise of "inadequate facilities to take both sexes on a single cruise."  However, this was not the case in Peru as Sears went on research cruises with men, stepping over them to reach her bunk for rest, and "without adequate facilities for either men or women!"  Sears commented that even though the Peruvian ships did not have proper facilities on board, they did have proper gentlemen. Mary Sears continued her research off the cost of Peru until hostilities broke out and America joined the second World War.
Upon returning to the United States, Sears joined the United States Naval Reserve and was commissioned as a Lieutenant, Junior Grade, in WAVES (Women Accepted for Volunteer Emergency Service).  The call to Washington, D.C. charged Sears with leading and organizing the newly created Oceanographic Unit of the Navy Hydrographic Office.  Mary Sears and her department created reports that became increasingly useful to the Navy, most importantly on submarine activities.  One report in particular was key to submarine warfare—it predicted thermoclines that allowed submarines to run silent to surface sonar pings and wait quietly without movement by adjusting their ballast.  The work also included site selection for nuclear bomb testing, such as the tests at Bikini Atoll.  Following her stint in the USNR WAVES, Sears was awarded the Johannes Schmidt Medal for her contributions to marine science and Naval oceanography during the War, and a grant from the Rask-Orsted Foundation for further study.  In 1947, Mary returned to Woods Hole and began work on her next giant contribution to Oceanography.
With the ban on women-at-sea still in effect, Mary made her mark by helping publish work by WHOI personnel.  Beginning in the early 1950s, Sears established two peer-reviewed journals (Deep-Sea Research and Progress in Oceanography) in which her oceanographic colleagues could publish their findings.  She was the founding editor of Deep-Sea Research in 1953 and served in that capacity until 1974.  Her editing duties also lead to the publication of several works considered indispensable in the history of marine science.  Oceanography was published in 1961 and set what many consider to be the standard for evaluating future research and Oceanography: the Past (1980) documented the field's development.  Her professional contributions grew internationally as Sears, nearly on her own, organized the inaugural International Congress on Oceanography at the United Nations in 1960, bringing together the world's ocean researchers for the first time.  In 1963, Sears was promoted to Senior Scientist in Biology and held that position until her retirement in 1970.
Mary Sears continued to contribute to the WHOI community for another 20 years helping compile indices of publications, collecting reprints, and overseeing the Annual Report and Summary of Investigations. Sears was awarded honorary doctorates in 1962 and 1974, and she received the Radcliffe Alumnae Recognition Award in 1992 for a life and spirit that "exemplify the value of a liberal arts education."  She continues to chair, establish, and participate in professional organizations around the globe. In 2000 the United State Navy honored Sears by christening their latest research vessel the USNS Mary Sears – marking Mary as the first woman to have a naval oceanographic vessel named for them.
Want to read more about Mary Sears? See this 2022 Smithsonian Magazine article.