NNOCCI was a NSF funded collaboration between museums, zoos, aquariums, and research institutions to better train staff and scientists to explain climate change to visitors. Their semester-long training sessions are no longer offered, but the materials that were developed are still available and highly useful for explaining climate science in a simple, direct manner. You can also download their "swamp" of attitudes in talking about climate change which can help you direct a conversation towards a more constructive discussion. You can also search YouTube for "NNOCCI projects" to find a variety of final project videos from the study circles in which the participants use NNOCCI techniques to successfully guide a conversation about climate change.
Much of the research behind the NNOCCI model was conducted by the Frameworks Institute, which tested different methods and metaphors for explaining climate science to measure which were the most effective. They have online training modules and courses to help you better explain your message, as well as research on the best way to communicate a variety of other topics.
COMPASS is a team of science-based communication professionals. They share a foundation of scientific training, but also have a diverse backgrounds in policymaking, science journalism, and natural resource management. Check out their communications tips and tools, including their message box workbook here.
The Alan Alda Center is part of Stony Brook University. It trains scientists to better communicate their research and discoveries. They offer online training as well an extensive blog with tips and guide for more effective science communication.
If you're looking for a more immersive experience, ComSciCon is an annual science communication workshop that brings graduate students from across the country together for an intensive weekend of communications training. Applications usually close around March and the workshops are held in June/July of each year.
AAAS holds a Science Communication Seminar during each of their annual meetings. You can view videos of previous seminars here.
Check out this short pamphlet on how to improve your data presentation and message through effective design.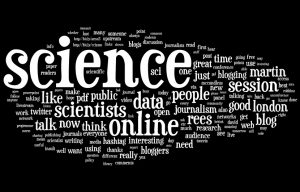 We've put together a few resources that might help when writing a blog:
Feel free to email us if you find other useful pages you think should be on here!