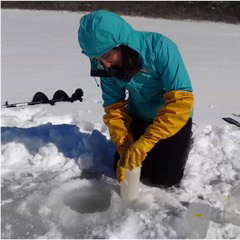 Megan May
Former President
Megan studies bacterial antibiotic resistance in the marine environment for a better understanding of environmental and human health. She is also working on a certificate in Science, Technology, and Policy at MIT. She is interested in science communication to the general public and to classrooms, environmental policy, and social justice to ensure science as a profession and the outcomes of scientific research are accessible to all people.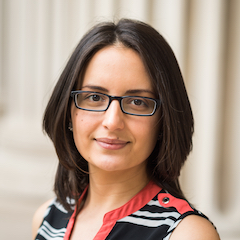 Hanny Rivera
Former President
Hanny's research focuses on coral reef ecosystems. She combine genetics, ecology, and evolutionary theory to look at how corals may respond to and adapt to different temperatures. She is extremely passionate about environmental conservation and sustainability. As Co-President, Hanny mangaes the website and blog, coordinates outreach activities with the rest of the group, and curates the resources pages on our site. Through BIG she looks forward to promoting discussions of science and environmental policy at WHOI, providing opportunities to improve science communication skills for MIT/WHOI students, and promoting science outreach on a local and global (digital) level.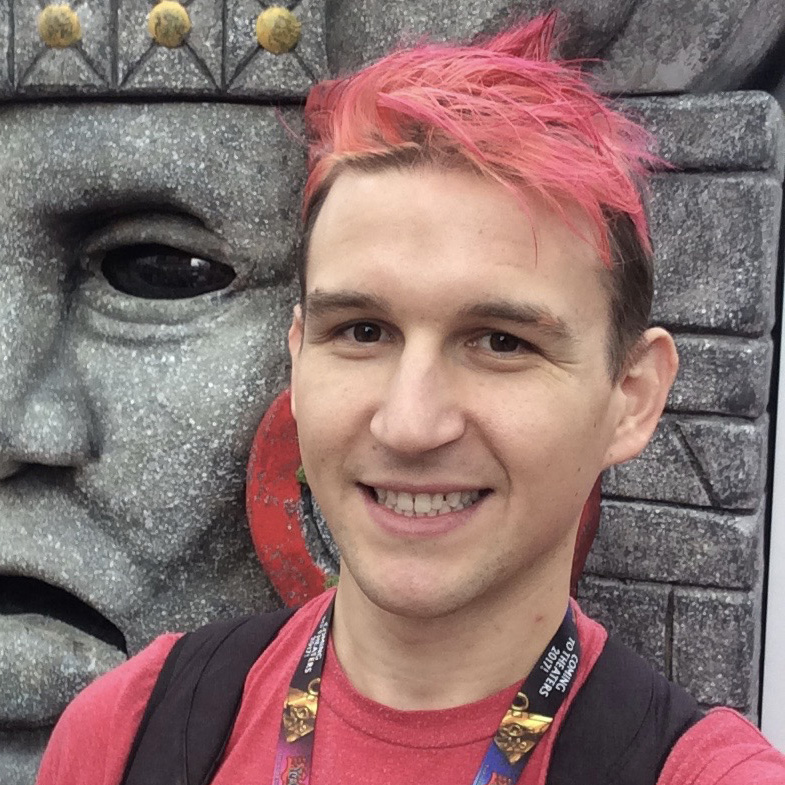 Casey Zakroff
Education Outreach 
Casey studies stress ecophysiology in marine invertebrates. He has a particular affinity for cephalopods and currently researches how ocean acidification might affect the early life stages of a local squid. He is broadly interested in the ways people access and engage with scientific information, in increasings access to science, scientists, and academia in underserved and underrepresented communities, and in communicating science through modern and novel media, especially comics and online video.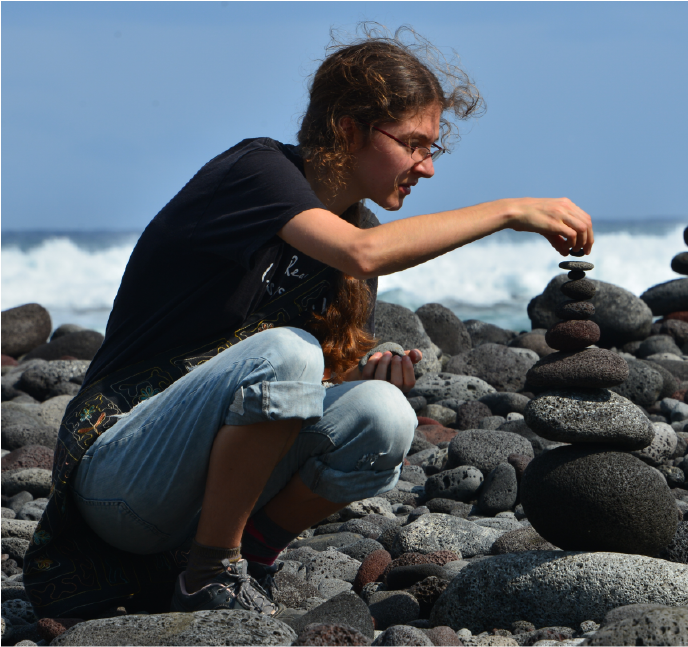 Hannah Mark
Blog Manager 
Hannah studies the formation and evolution of oceanic lithosphere using active-source seismic data - basically, she sends sound waves down into the rocks beneath the seafloor and tries to interpret the sounds that come back to learn about what's inside our planet. She is interested in science communication at all levels, and is firmly convinced that plat tectonics is relevant to everyone and so should be understandable to everyone.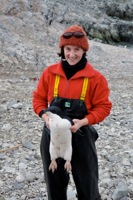 Alice Alpert
Former President
I am a MIT/WHOI Joint Program student in the Marine Geology and Geophysics department and I am interested in understanding the climate system and how it is changing due to global warming. I want to share my love for science with others because I think that scientific literacy is crucial in our technological society and that scientific findings should be shared with everyone. With BIG I hope to help our scientific community hone their skills to communicate with each other and with those outside of academia.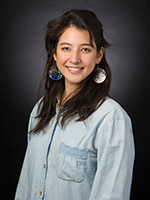 Sarah Rosengard
Former President
At WHOI, I research the marine carbon cycle, specifically the movement of organic carbon from rivers and the ocean surface into the deeper ocean. My research approach employs several techniques in analytical chemistry, and field work in the Amazon River Basin and Southern Ocean.
I have always found it challenging to convey the marine carbon cycle, and its connection to the climate system, to audiences outside my field. The challenge is exacerbated by the remoteness of this research, as well as the scale at which scientists think, often smaller or larger than common human experiences. As a training scientist, I seek opportunities to develop my communication skills to help inform these audiences about global environmental change. Engaging in broader dialogue, in turn, offers unique opportunities for scientists to learn about the greater value of their research to human communities, as well.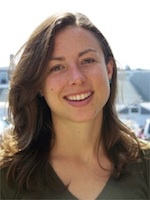 Alexis Fischer
Former Media Director
I am a MIT/WHOI Joint Program student in Biological Oceanography and am intererested in problems at the intersection of public health and water resource management. My research focuses on toxic or harmful algae – the species responsible for harmful algal blooms ("red tides") – and in particular how warming temperatures will affect bloom initiation. I believe it is increasingly important for scientists to actively facilitate public understanding of science. My primary objective in BIG is facilitating a link between the MIT and WHOI science and broader audiences.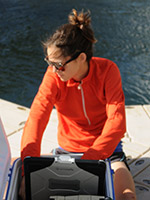 Julie van der Hoop
Former Media Assistant
In 140 characters: As Media assistant, I help share BIG's message and spread word of our events. I study marine mammals and human impacts on their populations.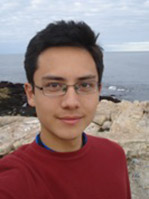 Guy Evans
Former Treasurer
I am a Ph.D. student in the Marine Geology and Geophysics department.  I am also an avid linguist and traveler, who seeks to promote communication across cultural boundaries. I love science, because it asks us to learn from the world as it is, rather than how we want it to be. In my broader impacts activities, I strive to capture and communicate the spirit of being a scientist in addition to the relevant facts and theories. After all, imagination and creativity are as much a part of science as observation and reason.
At the moment, I am studying mineral deposits associated with deep sea hydrothermal vents. By examining the chemistry and isotopic ratios of these minerals, I intend to learn more about the unique environments in which they occur. If successful, this research will eventually be used to help explore for new mineral and biotechnology resources.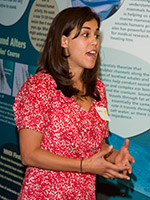 Whitney Bernstein
Former President
In my roles as scientist, policy adviser, and exhibition producer over the past six years, I have been working to advance science literacy, civic engagement, and environmental sustainability across the nation. I am interested in broader impacts activities, because these activities help me keep an eye on the big picture − how science and society influence one another. I am particularly interested in using art and social media to engage public in a dialogue about science.
I received my Ph.D. in Chemical Oceanography from MIT and WHOI. My doctoral research centered on the impacts of ocean acidification and climate change on coral reefs. I am currently a NOAA Sea Grant Policy Fellow serving as Ocean Policy Adviser in the office of Congressman Sam Farr, Co-Chair of the House Ocean Caucus.
Frequently tapped to speak on science communication and interdisciplinary collaboration, I have presented at Harvard University, Boston's Museum of Science, UMass Dartmouth, the New England Ocean Science Education Collaborative Ocean Literacy Summit, and the Mass Audubon Educator's Meeting.