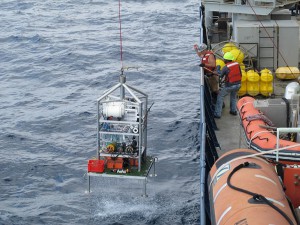 During today's Alvin dive, pilot Bob Waters, geochemist Jeff Seewald, and microbiologist Fengping Wang descended to the seafloor. Their first task was to find a new research tool called the Vent-SID, which had been deployed to the bottom for the first time on Friday, and send it back up to the ship.
The Vent-SID collects samples of microbes that live in vent fluids. Eventually, the scientists on board hope to use it to incubate microbes in their natural environment on the seafloor and study their activity levels.
When the instrument reached the surface a little after noon today, the deck crew brought it aboard. Stefan Sievert, Craig Taylor, Jeremy Rich, and Nuria Fernandez Gonzalez were on hand to meet it and have a look inside, along with some of their students and collaborators. The Vent-SID successfully collected and preserved samples of the microbial communities at the vent where it was stationed, so the researchers will analyze those. The incubation part of the test-run was interrupted, so the team will review the system's activity log and possibly make a few tweaks before the Vent-SID's next deployment a few days from now.
All of today's divers have been in Alvin before (or at least, in the previous incarnation of Alvin), so there were no five-gallon buckets of ice water flying on deck today. But stay tuned for our next dive…