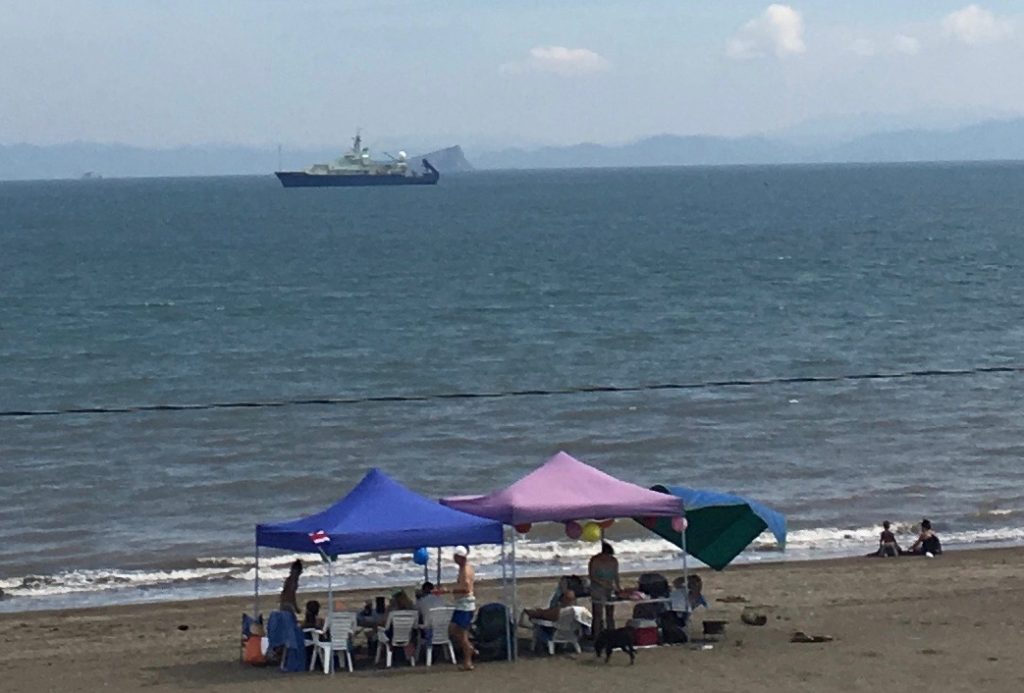 Here we are in Puntarenas, Costa Rica, anchored about a half-mile from the beach. It is hard to believe that our journey at sea is coming to an end, after all of the months and years of planning, and then actually going on the cruise. We are very proud and satisfied with the science that we accomplished on the cruise. We have become very comfortable on the ship, our home for the last three weeks. Things that seemed awkward or uncertain at the beginning of the cruise are now routine. We have forged new friendships, strengthened old ones, and developed a deeper appreciation for our colleagues' personal strengths. We have much to be proud of and thankful for. We are very lucky and fortunate to have the opportunity to explore and study the ocean, particularly at deep-sea hydrothermal vents, part of Earth's rich tapestry of life in the most surprising places!
The cruise has been very productive scientifically, although in ways that we could not have predicted at the beginning of the cruise. Some new projects greatly exceeded expectations and have blossomed over the past few weeks into strong potential for future projects. Carolyn Tepolt, a newly appointed WHOI scientist, was very successful at trapping Bythogreae crabs at the vents. She was able to collect many tissue samples from the crabs, which she plans to use for transcriptome analyses back at the lab to begin to understand specific adaptations of these crabs to hydrothermal vents. François Thomas at the Station Biologique de Roscoff (France) has begun a very promising study during the cruise on bacteria that degrade chitin, a major component of the tubes of Riftia and the exoskeleton of the crabs. He already made several insightful discoveries about chitin-degrading bacteria on the cruise. Kevin Becker, a postdoctoral researcher at WHOI, initiated a new study tracing the fate of chemosynthetically derived carbon up the food chain at vents using lipid biomarkers. Ileana Perez-Rodriguez, starting a new Assistant Professor position at the University of Pennsylvania, obtained a variety of samples to begin a new project examining the role of microbes in degrading asbestos, as vents may be a good place to look for such organisms.
Some projects were a continuation of work conducted during Dark Life I in 2014 at 9˚N. Tjorven Hinzke (working with Horst Felbeck) continued collecting Riftia samples for her PhD research focused on interactions between the sulfur-oxidizing bacterial symbionts and the Riftia host. She will analyze her samples using proteomic techniques to provide new insights into the interactions between symbiont and host.
Ashley Grosche and Sushmita Patwardhan are graduate students from the Vetriani laboratory at Rutgers University, and they continued their lab's study of bacteria that grow on colonizers that we deployed for various times at different vent sites during the cruise. We hope they are able to isolate a new crop of interesting bacteria back at the lab. We also continued the time series of Lauren Mullineaux's lab at WHOI, studying larval recruitment and colonization at deep-sea vents. Net Charoenpong has been analyzing vent fluid samples for ammonium nitrogen isotopes for four years now for his PhD. He was able to see sites where his samples come from first-hand on his Alvin dive. He was one of 11 scientists that got their first chance to see the vents up close by diving in Alvin.
Andrew Babbin and Ryan Woosely were a great addition to the cruise, maximizing the number of environments and samples that we could collect on the cruise. They were able to sample 9 CTD casts to characterize the unique chemical features of the oxygen deficient zone of the water column above the vents and along our transects from port to port. Andrew participated in the Vent-SID studies working on measuring nitrite in vent fluids.
The Vent-SID was the primary motivation for the cruise. What's the latest with the Vent-SID? The Vent-SID team consisted of WHOI scientists Craig Taylor and Stefan Sievert, WHOI engineer Ed Hobart, Professor Jeremy Rich and Research Assistant Sean O'Neill of the University of Maine and Diana Vasquez Cardenas, currently affiliated with the University of Sao Paulo (Brazil). She has studied chemosynthesis in coastal sediments for her PhD in the Netherlands and it was her first foray to study an environment where chemosynthesis is actually the predominant process.
Although getting a successful seafloor deployment proved to be more difficult than anticipated, we learned a lot about the Vent-SID's limitations and we have good ideas for how to improve it in the future. We are all very much committed to the idea of the Vent-SID and, besides some of the setbacks, are convinced that this is the way to move forward in order to get actual numbers on the productivity of deep-sea vents and to assess their role in biogeochemical cycling of the deep-ocean and beyond.
We did run a successful Vent-SID experiment on-deck of the ship, using vent fluids that were obtained with the Major fluid samplers at the vents. The on-deck incubations demonstrated the full functionality of the Vent-SID and we were able to measure substantial microbial activity in the different incubations, for example based on rapid consumption of nitrate and increases in cell numbers. These results are very exciting as we move closer to measure these processes directly at the seafloor. We anticipate insightful results from these Vent-SID incubations after we get back to our shore-based labs to analyze carbon and nitrogen isotopes as well as the microbial community composition and gene expression.
Overall, our cruise was very successful. The chemistry among scientists was excellent with a great atmosphere of teamwork and collaboration. The Atlantis crew, science technicians, and Alvin team were excellent and extremely hardworking and knowledgeable as always. Without them we would not have gotten the samples that we need for our research and their help is greatly appreciated. As we are now all heading back to our families and friends, we leave this cruise with a sense of accomplishment, wonder, and strong desire to come back in the future to finish what we have started. While this cruise has come to an end, it also marks the beginning of many new chapters waiting to be written.