WHSTEP Science Safari - Go with the Flow! Geophysical Fluid Dynamics
Go With the Flow! Hands-on activities to share with students at WHOI's Geophysical Fluid Dynamics Lab Thursday May 8 from 3:30 – 5:00 PM
Teachers of all grade levels are invited to a special Open Lab event especially designed to provide practical and fun ways to teach about the ocean!
Dr. Claudia Cenedese has developed several hands-on activities to teach basic concepts in physical oceanography and fluid dynamics. At this Science Safari, Dr. Cenedese will be our guide as we try out the activities, and she will provide pointers for using the activities to teach students in different grade levels. Participants will receive resources for teaching about these important topics.
Physical Oceanography involves the exploration and study of ocean currents and water properties and their roles in the earth's systems. Physical oceanography has important applications in global climate, oceanic mixing, and coastal studies, as well as being a key element in studies of marine life and primary production, hydrothermal vents, and how the ocean stores carbon dioxide. It might also help you understand the way the cream mixes into your coffee!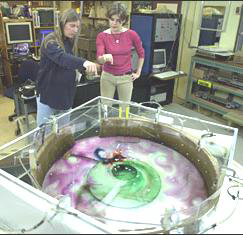 The lab is located at Reinhart Coastal Research Center – visit http://www.whoi.edu/graphics/images/QC_carlson_lane.pdf
Come on over to the lab after school on May 8, and invite a colleague to come along. Please RSVP to Pat Harcourt, WHSTEP Administrator, at pharcourt@gmail.com by Wednesday May 7, 2014.