Logistics
Travel
Air Travel Boston Logan International Airport (BOS) and Providence T.F. Green Airport (PVD) are the nearest airports to Woods Hole. Both airports are ~80 miles from Woods Hole and offer bus transportation to Woods Hole via the Peter Pan Bus Lines. If you are planning on flying, please check your flight arrival time and the bus schedule well in advance to ensure you are able to catch the bus. Ground Transportation Peter Pan Bus Lines offers bus transportation from Boston's South Station directly to Woods Hole. Wanderu Bus Lines offers bus transportation between Providence, RI, and the Woods Hole bus terminal. If you are driving a personal vehicle to Woods Hole, free parking will be available in the Clark Lot of Quissett Campus (see map below). In particular, if you are traveling by personal vehicle please consider filling out our ride share spreadsheet and carpool with other symposium attendees from your area.
Parking at WHOI Quissett Campus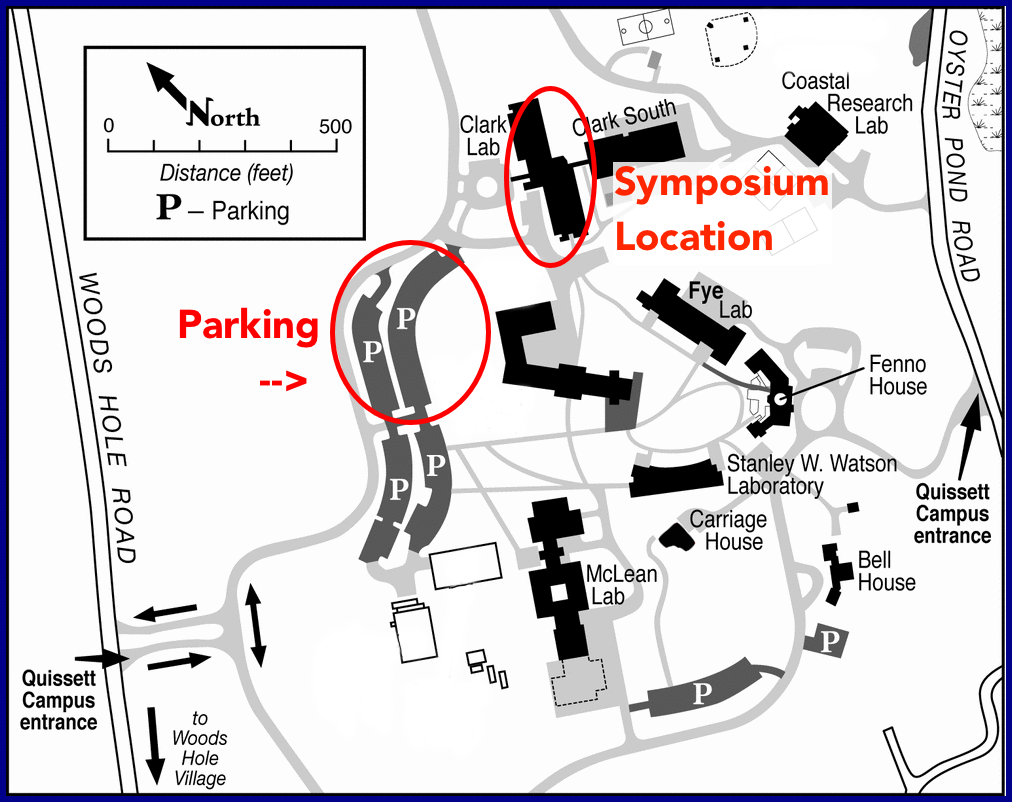 Hotel Information
There are many options for staying in Woods Hole, particularly in April. here we've listed hotels that have been used for past conferences hosted at Woods Hole. Because this is a one day event, we do not have negotiated group rates with any hotels.
Inn of the Square 40 North Main Street Falmouth, MA Phone: 1-800-676-0000
Sands of Time Motor Inn & Harbor House 549 Woods Hole Road Woods Hole, Cape Cod, MA 02543 For Reservations: (508) 548-3623 or 800- 841-0114
Coonamessett Inn 311 Gifford Street Falmouth, MA Phone: (508) 548-2300 Email: stay@coonamessettinn.com
Holiday Inn 291 Jones Road Falmouth, MA Phone: (877) 272-6415 and ask for Reservations