What is CWATER?
CWATER is a model of resilient and sustainable planning and building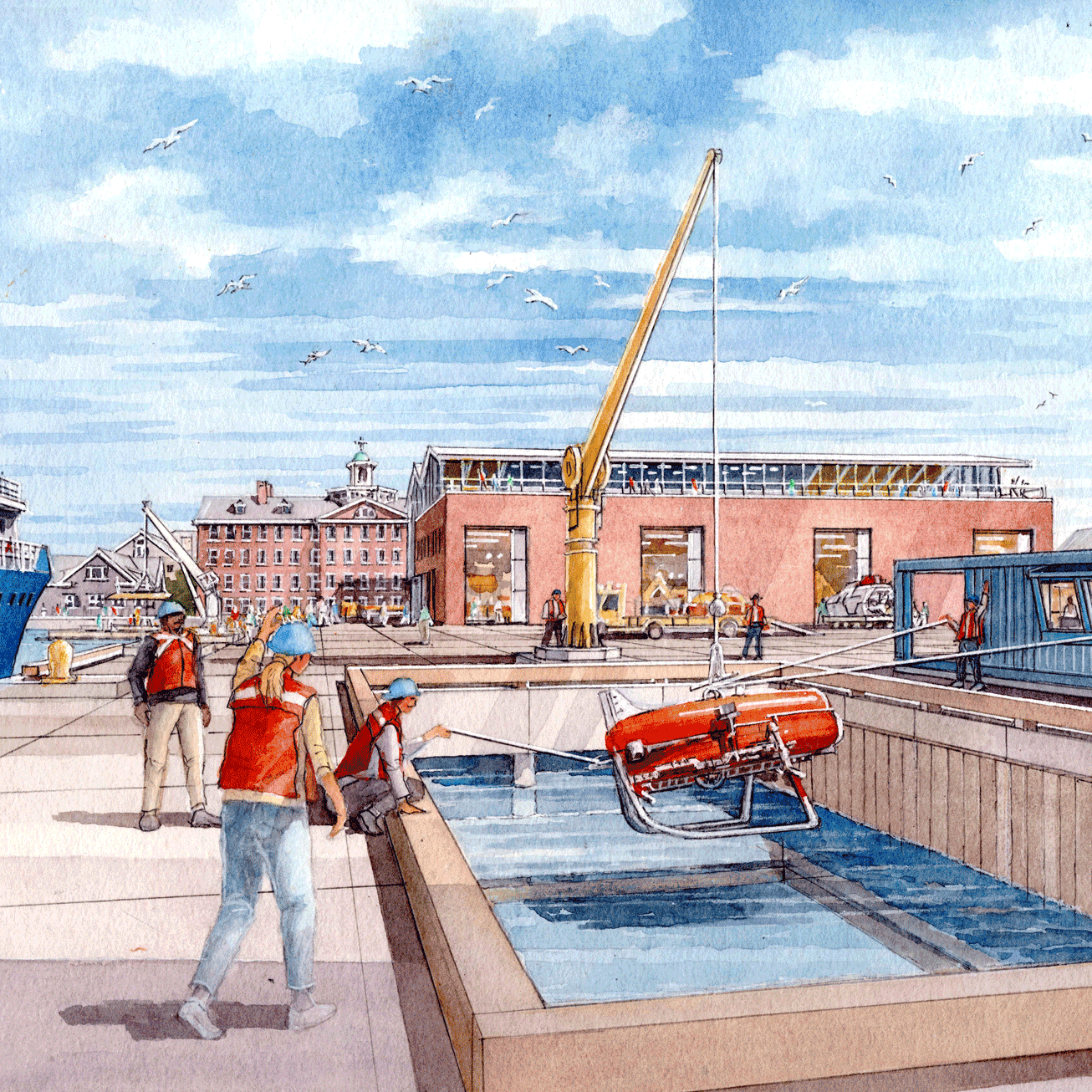 The Complex for Waterfront Access To Exploration and Research (CWATER) will be a next-generation, world-class, sustainable marine research facility that will enable fundamental advances in ocean science, engineering, and education through the 21st Century for the entire oceanographic community. A new innovative dock design will enable small boat access, robotic vehicle port and serve as home port for WHOI's three oceangoing research vessels. After 50+ years of consistent use, the current facility has reached the end of its design life. Maintenance costs continue to increase while functionality is declining. The CWATER facility will remove barriers to collaboration and innovation and create a network of research and engineering to support our understanding of the ocean.
CWATER will provide the essential infrastructure required for WHOI's entire sea-going operation and this shared national resource to persevere.
A leading-edge marine facility for launching oceanographic expeditions
A rare deepwater home port for world-class ocean research vessels and vehicles
A shared resource for the U.S. oceanographic community
A center for forging new climate change models, developing better ocean observation, and inventing better marine robotics for exploring deeper, farther, smarter for the next century
An incubator and testbed for novel ideas and prototypes
A "collaboratory" for global problem solving with public and private partners
Mission control for the "always on, always connected" ocean of the future
A training ground for tomorrow's ocean leaders
An public education center for all, showcasing the wonder and urgency of oceanography for diverse audiences
A green space and waterfront access point in the Woods Hole community
A model of resilient and sustainable planning and building
Artist concept rendering @Woods Hole Oceanographic Institution
Based on these studies:
WHOI has refined the vision for a new waterfront research complex that will provide critical, upgraded infrastructure that will advance our nation's oceanographic research capabilities.
CWATER has strong scientific merit, helps fulfill significant community research priorities, and provides a platform for training the next generation of oceanographers.
CWATER will incorporate sea-level rise and coastal resiliency measures and will be designed to serve as an exemplar for other marine centers and facilities.