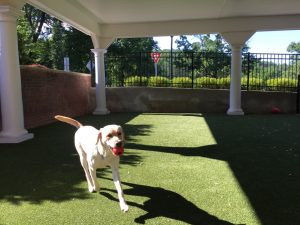 At AGU this fall, even with 20,000 people exiting meetings at the same time, we will have no problems finding seats for lunch. Hugger will make sure we're at the front of the line.

She also was calm as could be on the subway. The crowds were thinner here, but its loud underground, and I always get a bit nervous trying to hear what's going on around me. It'll be great to have Hugger there to keep me settled, though I think its usually supposed to work the other way around.

I'm excited to see how she does in the lower key "country" environment. She doesn't get distracted by dogs, and completely ignored the horse-drawn carriages in the city, so I expect she'll do great. Also, I received her "puppy report" this afternoon, and it sounds like her puppy raiser exposed her to every environment, including cities, buses, trains, subways, museums, hospitals, plays, sports games, music events, and rural areas (also including the penitentiary – I hope I don't have to rely on that experience, smile).

Today is a day off, which we started by enjoying the leisure path (and stopping to try to identify the bird songs), and playing with her kong in the free run. A good start to a relaxing day (despite the 5:30am wake-up call, smile).

Yesterday Hugger and I went to NYC. It was packed, partly owing to the protests that were occurring near the Port Authority, where we parked. As usual, Hugger zipped through the crowds, weaving right, then left to get around a group, seeing free space and surging forward to take the lead, but always stopping at the down curb to wait for my signal to cross. She seems to thrive on being busy.