Launch of the Marine Chemical Speciation (MarChemSpec) models

Hands-On Hybrid Tutorial at OCB 2023
Session 1: Thursday, June 15 (1:30-5:30 pm, lunch and snacks provided)
Session 2: Friday, June 16 (8:00-12:00, breakfast and box lunch provided) - same content both days
These easy-to-use models are for the calculation of:
• Acid-base equilibria, and CaCO3 saturation in natural waters containing the ions of seawater
• Inorganic complexation of trace metals Al, Cd, Co, Cu(II), Fe(II), Fe(III), Mn, Ni, Pb and Zn 
in natural waters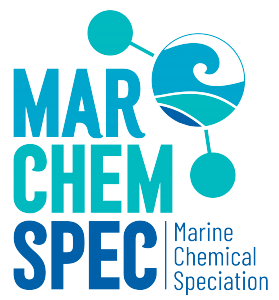 The natural waters of the world do not only consist of seawater of varying salinity. It is important to be able to estimate the influence of changing natural water composition on equilibria and to understand the effects of anthropogenic changes in a range of environments. These models help us to do that.

 The models will first be made available at the OCB Summer Workshop as standalone programs and also procedures that can be called in a simple way from Matlab, Python, and R. This is the beginning of a series of software releases and further model developments. The initial release of software, which we will use at the event, will be for computers running Windows. We may be able to accommodate Linux users too if there is enough interest. We are investigating providing the software for Apple (MacOS) users, but it may not be available for the meeting.
Simon Clegg and David Turner (of SCOR Working Group 145, and now the Chemical Speciation Task Group of the Joint Committee on the Properties of Seawater) will give the presentations and demonstrations at the launch event. Information about times, the location of the room, and logistics (bring your own computer!) will be provided in early June.
In person: Sign up to participate in person via the OCB2023 registration form.
Virtual: If you are not attending OCB2023 but wish to participate in this hybrid tutorial, please contact Heather Benway (hbenway@whoi.edu).
Please visit marchemspec.org for more information about MarChemSpec, our published papers, and for software downloads (from early June).