OCB 2021 will be held virtually throughout June 2021
We are excited to present an interactive series of events with early career activities, interactive panel discussions, virtual poster sessions, and opportunities for networking and socializing throughout the month of June. The OCB SSC has been busy for several months planning plenary sessions for this year's workshop. This year, for each plenary session, the plenary talks will be pre-recorded and available for viewing at your convenience 2 weeks prior to a live panel discussion that will be conducted in small group format. A final list of confirmed speakers for each session and a draft agenda will be posted on the workshop website in 1-2 weeks.
While we miss seeing everyone in person, we have been excited about the broader participation in virtual OCB meetings and webinars over the past year. So please join us in June to meet new colleagues from near and far!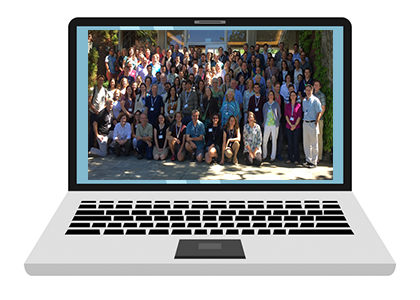 Registration is free and open to all. If you are interested in attending part or all of the OCB workshop, you must register in order to receive connection information for the virtual sessions. Connection information will be sent out a few days before each session. Please register by June 1 to ensure that your name is included in the workshop email list.
OCB2021 plenary topics:
Bridging the divide between ocean biology and geochemistry (Chairs: Dreux Chappell, Adam Martiny, Patrick Rafter)
Optical biogeochemistry: Above and below the waterline (Chairs: Amy Maas, Seth Bushinsky, Maria Tzortziou)
Ocean-based negative emissions technologies (Chairs: Lennart Bach, Jaime Palter, Clare Reimers, Patrick Rafter)
Ocean Worlds (Chairs: Laura Lorenzoni, Chris German, Alison Murray, Ashley Kleinman, Paula Bontempi, Adam Martiny)
Marine Ecological Forecasting Mini-Session (Chairs: Victoria Coles, Marjorie Friedrichs, Charlie Stock, Susanne Menden-Deuer, Raleigh Hood)
OCB will kick off with a virtual early career mixer on June 4. Virtual partial day OCB sessions are tentatively planned for June 7, 11, 15, 18, 22, and 25. In addition to plenary sessions, OCB 2021 will include targeted community discussions on OCB-relevant topics, OCB activity updates, early career and agency program manager networking events, virtual poster sessions, and more!
Stay tuned via this website, the Ocean Carbon Exchange eNews, and Twitter @US_OCB! Follow and tweet using #OCB2021
You can view recordings from previous workshops on the OCB YouTube channel.