To contact us, please reach out with the emails below. To set up a meeting with the first available JP REFS, email jp-refs@mit.edu.

Shawnee Traylor
shawnee@mit.edu
I grew up on the West Coast and am persistently attempting to assimilate into the Northeast. I'm into putting robots underwater to study how carbon cycles between the ocean and atmosphere. When I'm not at work, I will do just about anything to be outside: hiking, sailing, foraging, etc. Extra points if it's cold. I believe that grad school can and should be enjoyable, and am happy to help you find the support you need to accomplish that!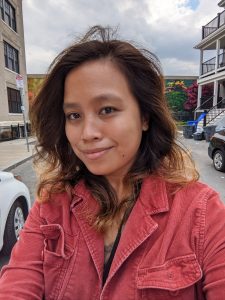 Mira Santos
miras@mit.edu
I'm from the Philippines, but I grew up in San Diego, CA. I'm trying to understand how planktonic communities might respond to climate change on the Northeast U.S. Shelf. I enjoy being outside - hiking, camping, skiing, frisbeeing, climbing, slacklining - and cooking elaborate meals for my friends. I host occasional jam sessions and dinners at my co-op in Cambridgeport (ask me personally if you would like to join in). I'm happy to chat about pursuing mental wellbeing together and how we might cope with all the stress and challenges life can throw at us.
Phadtaya 'Pad' Poemnamthip
ppoem@mit.edu
I grew up in Bangkok, Thailand, and went to college in Austria where I studied Physics with a focus on Astrophysics. At WHOI, I use numerical modeling to study coral atoll hydrodynamics and its effect on coral reef health. I enjoy stargazing, solving Rubik's cubes, swimming, writing poems, and sipping green tea. I'm also interested in meditation, as I find that analytical minds should be balanced by inner peace. I'm happy to talk about international student experiences, impostor syndrome, and anything else you'd like to talk to me as a REFS or as a friend.