The instructors have only 3 weeks to ensure we have all the fundamental skills for daily life: caring for our dogs, behaving at meals (or an extended time under a meeting table), and getting around our neighborhood and commuting to work. They also teach us the skills to adapt and extend the training to our specific needs once we get home and back to our jobs, which I'll talk more about later. Meanwhile, its a busy schedule learning the basics:
5:30am Wake-up call (Reveille?). There are 1-way intercoms into our rooms. Take dogs out to the relief area to "park" on demand. We don't want our dogs relieving at will (nor do you!) to avoid messes in high-traffic areas. So they're taught to go only when told.
5:45am Feed kibble (1.5 cups for Hugger) and 2 cups water. If they don'teat or drink it, it gets discarded. The goal is to get the dogs onto a routine. And haven't snacks been tied to obesity? Well, no mid-day snacking for these lean, mean pups!
6:45am Walk the perilous path down cat alley to the dining room. The Seeing Eye has 2 house cats, Crosby and Nash, who have free reign of the 1st floor, and Hugger has some cat distraction issues. These cats are skilled puppy taunters. They lay in the middle of the hall, and make the dogs go around. Or parade back and forth in front of the dogs noses, laughing because they know we won't let the pups pay attention. Chasing after cats could be hazardous, as well as getting us lost!
7:00am Take assigned seats for breakfast. The food here is great, and we get a range of choices … but we only get about 30 minutes to wolf it down before we're heading into town for morning training.
7:30am Back down cat alley to our rooms.
7:45am Trek to town (sometimes proceeded by exercises, such as obedience practice). The first route we're practicing is a simple rectangle, going 4 blocks along Maple, one block to the left to South, 4 blocks up South Street, and one block back to the "lounge." The crossings include 4-way stops, T intersections, and traffic light (controlled) intersections, sometimes with a turn lane (and separate signal). We need to learn these traffic patterns for our solo on Sunday. Along the way we have staged blockades across the sidewalk, barking dogs (dog distractions), and turning vehicles (traffic checks). We also have helpful locals who unwittingly provide additional dog distractions and traffic checks, as well as random obstructions (like the tarp across the sidewalk this morning!). The skills we learn will be useful going to and from WHOI, navigating cities when attending meetings and conferences, or getting around campuses when visiting colleagues.
11:00am or thereabouts relieve the dogs and provide 2 cups water. Usually followed by other drills or a lecture.
Noon: The alley cat stroll again, followed by lunch.
1:00pm Back to town for more practice along our route. Sometimes followed by a lecture back at the Main House.
4:30pm Dinner-time! Another 1.5 cups kibble and 2 cups water. I have one happy lab at meal times!
5:00pm Another treacherous walk amongst the cats, followed by dinner.
6:00pm Evening Lecture
8:00pm Last cup of water followed by relief time.
8:15 – 10:00pm: Social time and playtime, with an optional glass of beer or wine (if purchased from the shoppers).
10:00pm Exhausted slumber ….
Whenever we get short breaks between activities, we practice skills we learned in lectures, including brushing our dogs, brushing their teeth, and dog massage techniques. After this weekend, we'll be allowed to play with our pups in a fenced run, and take them out onto the 1/3 mile walking loop. This boot camp comes with stress relief!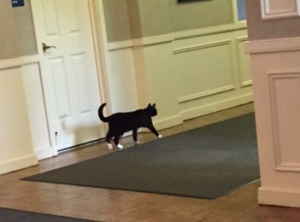 Its definitely boot camp for the dogs, but the humans do get some perks. While we're out in the morning, our comfy double beds are made for us, and our rooms are cleaned and towels replaced. Linens are changed and washed for us weekly. There are volunteer shoppers who will get us snacks (and beer or wine, no hard alcohol), which we can store in our mini fridges. And classes usually are only 6 days per week. We'll get some Sundays to catch up on work from home, to work with our dogs around the walking path, without an instructor, and to do chores (we have to do our own laundry, can you imagine? smile).
But, first, this Sunday morning is our first solo "test", walking a route we've been practicing "on our own" (meaning the instructors lag a 100 feet behind, rather than giving us hints and tips).