OCB2021 will take place entirely online via the platform ePosterBoards. ePosterBoards is set up as a 2-dimensional version of a conference hall with options for seating, conversations among 2-8 people, a lecture hall and stage mode (everyone will see the same presentation), poster halls, networking and breakout areas.
We encourage you to use and engage on Twitter during the event using #OCB2021
Each day of the meeting will have a unique access link, this will be sent out via the workshop listserv a few days before each event day.
Access the event from a computer, not a mobile device, and use Google Chrome (update to latest version) for the full experience, do not use VPN. Other browsers (update to latest) may not access all features/interaction capabilities of ePosterBoards.
If you need support on access due to a restricted vpn or system restrictions before the event please contact ePosterboards staff Mike for help.
You will enter the event each day in the lobby and be able to navigate via a sidebar menu and clickable floors. To move from one spot to the next, simply double click where you want to go (eg. on a specific seat at a table or poster).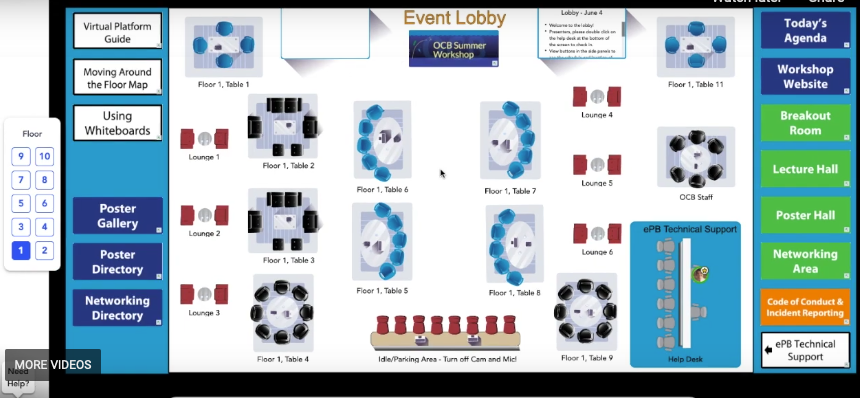 ---
Breakout rooms will be a main event area where small group discussions and plenary sessions will take place.
Some events will have assigned topics at each table, often multiple tables per topic (on the same floor or replicated on multiple floors) to accommodate numerous attendees. You will be able to move between tables, floors and topics as directed by plenary leaders or on your own time during networking events.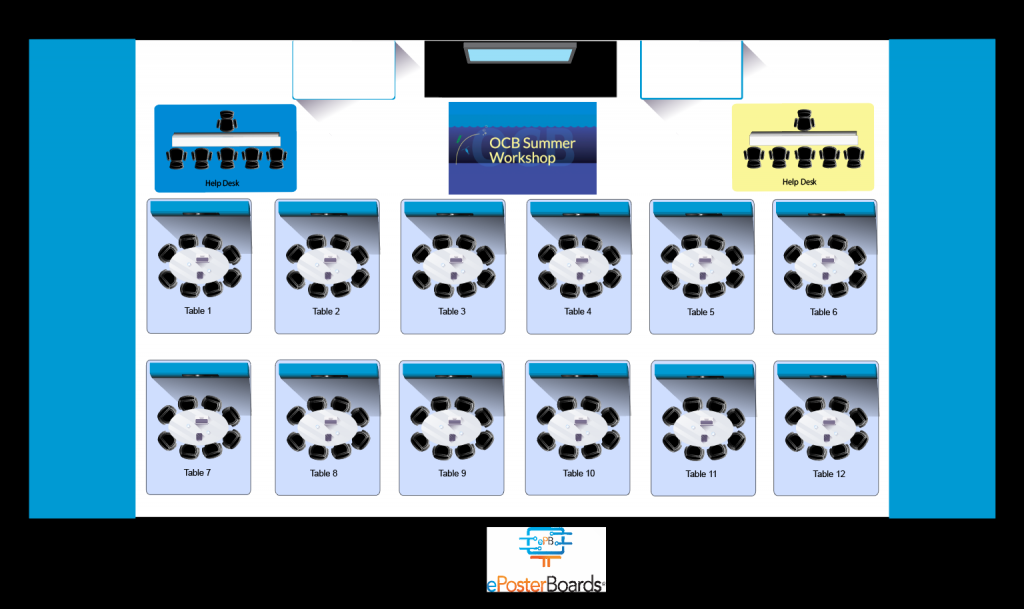 ---
Whiteboards will be available at every table and other group locations. Check whiteboards when you enter a table or networking area to find resources, links and instructions. For discussion groups there will be a 'rollcall' place to add your name as a table attendee. Whiteboards are your visual discussion board - add sticky notes while arranging the groups thoughts, link resources relevant to the discussion topic,  find discussion pre-assigned questions for plenary topics, and make notes of the group's discussion and take home messages. Each whiteboard will be screenshot captured following the session to be a resource for the plenary organizers and attendees. Learn more about using whiteboards.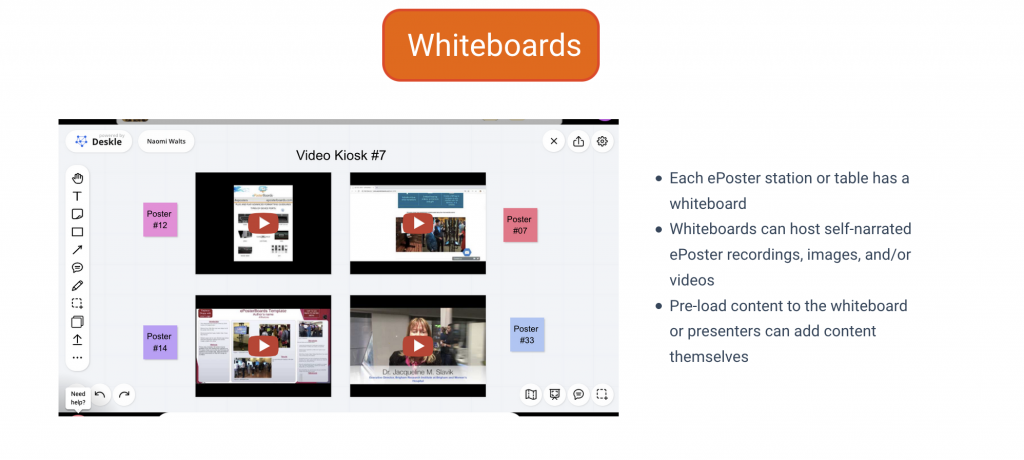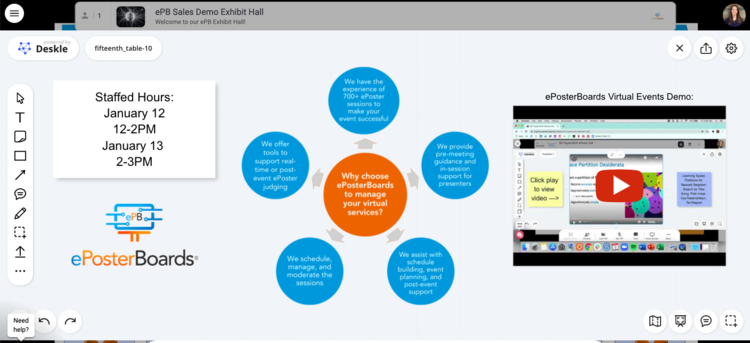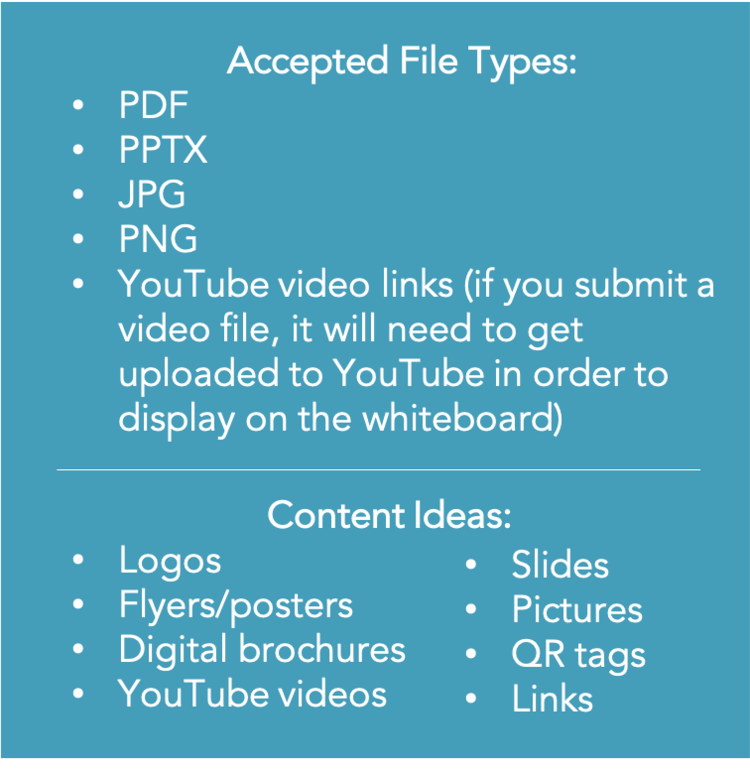 ---
Lecture/Plenary mode will show the same view to all attendees in any location when activated, for panel discussions, all event talks, introductions, and session wrap ups:

Some events will take place in the Lecture Hall.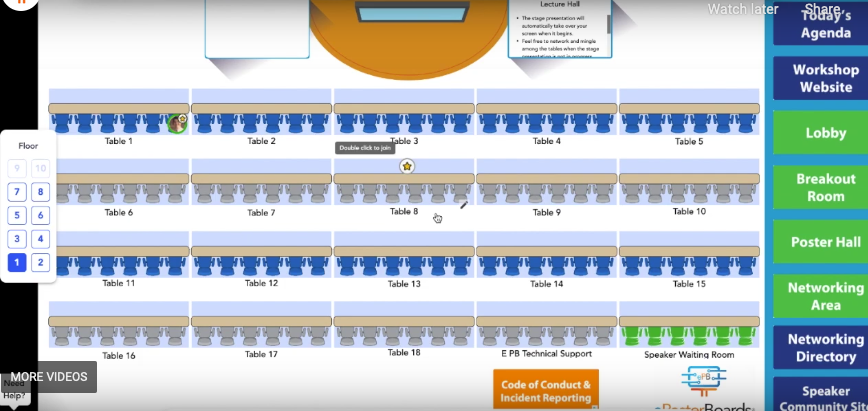 ---
Poster halls allow for small group interactions during poster sessions similar to an in person conference. The orange seat is for the presenter, five attendee seats are available for people interested in a poster. Presenters will share the poster or slides from their own computer on the screen visible to the attendees in a poster area. A poster directory will be available to help you find the location and presentation date for each poster presenter. Posters will be distributed over several floors of poster areas as seen below.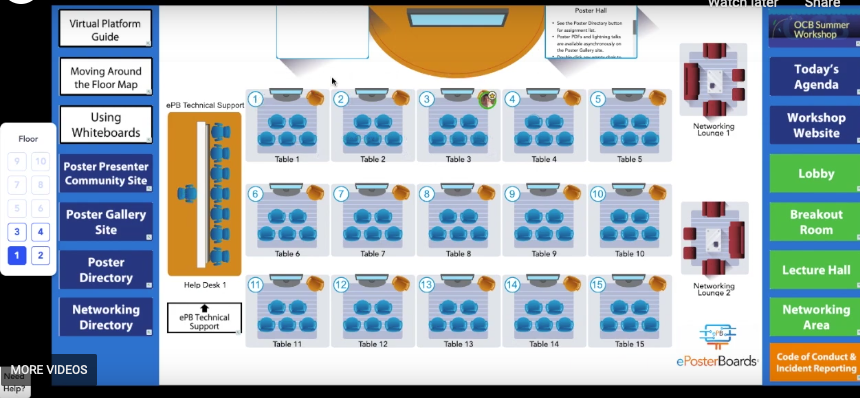 ---
Chat, interactive Video and Audio: In ePosterBoards you will be able to interact with other attendees via video to video conversations, over chat to specific attendees in the same virtual area as you, within small groups at tables in a video group, via shared virtual whiteboards, and more. Only people at your table or seating area can hear and see conversations within a group/pair.
---
The Networking Space is for interacting with colleagues. Please use the Networking Directory (linked from the side bar in the ePosterboards software) to navigate and explore all 8 floors (!!) of this space. Some tables will be labeled with a topic and others will be free for you to discuss whatever you like. There are also four 2-seaters on each floor for one-on-one interaction (great for impromptu meetings & interviews!). Each table also has its own whiteboard. Some of these will be pre-loaded with informational materials and others will be a blank canvas for you to brainstorm. Please be sure to open them to interact!
---
Please watch these short videos on other features you will be using - chat between participants and to the group, and profiles/business cards!
We recommend including the following on your profile:
First and last name
Affiliation
What/who are you looking to connect with? "I am looking for a postdoc in xxx"; "I am looking for graduate students in xxx"; I am looking for collaborators on a xxx project"; "I am interested in talking about xxx"; "My institution is hiring xxx".....etc.
Any social/contact information
---
For poster presenters, and speaker & panelists these are must read websites, with live tutorial sign ups (required) and resources to help you use ePosterboards to meet your networking and scientific goals.
---
If you will be sharing your screen at any time, please watch this short video for detailed settings to use in PPT and system permissions prior to the event.
OCB staff and ePosterBoards staff to provide help or tech support throughout the event. Find OCB staff at the yellow help desks or labeled tables, and ePosterBoards (tech support) at the blue help desks.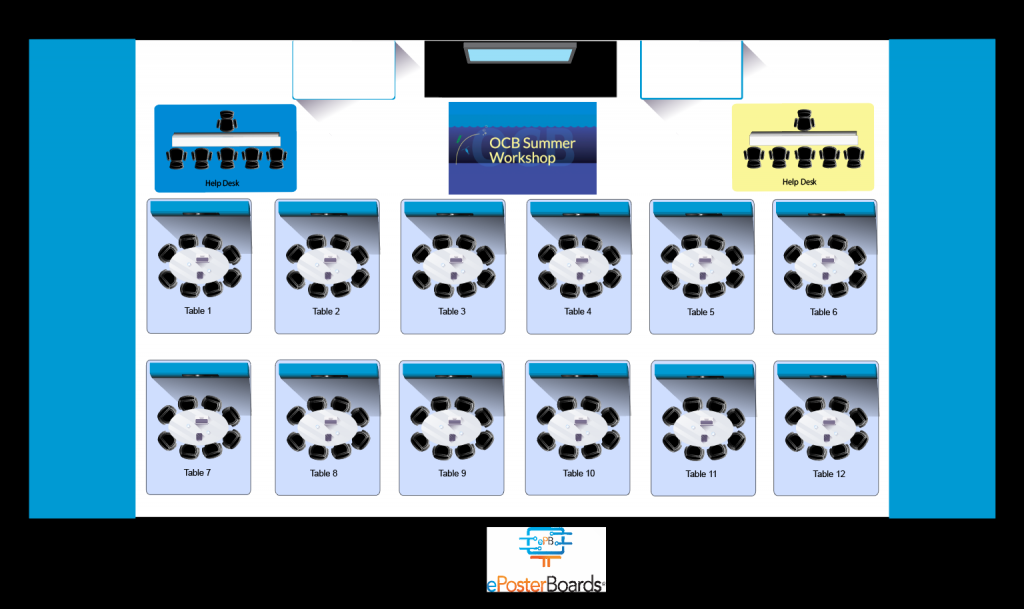 Learn even more about the virtual format on the ePosterBoards info page (note OCB2021 will look slightly different than the examples shown).