Community Update (6/5/18)
To members of the Woods Hole community:
I am pleased to have the opportunity to provide you with an update on the Woods Hole Oceanographic Institution (WHOI) campus plan for the Village.   Thank you again to those who attended our community meeting and provided formal or informal feedback to a member of our team.  Based on your input, along with the insights provided by the Community Advisory Committee we established, our internal team and architects have revised our plans to reflect community concerns, our own needs and the technical issues involved.
As you will recall, our goals in proposing the various concepts were:  improving safety (pedestrian, bike and car), enhancing circulation thereby reducing travel on public ways, and adding parking spaces (to address existing need and relocation of spaces from the dock).  Our first two proposals provided driveway connections to facilitate access for emergency and fire protection and allow employee travel within the campus, without requiring travel on already busy Village streets.
The new plan does not include any roadway or circulation improvements but instead maintains the access to the expanded lot from School Street, addressing concerns from the community about a potential cut-through and impacts on existing green space.  We have maintained the same number of parking spaces as the last proposal, though they are allocated to different locations.  See an updated graphic of the new plan below or download the pdf version.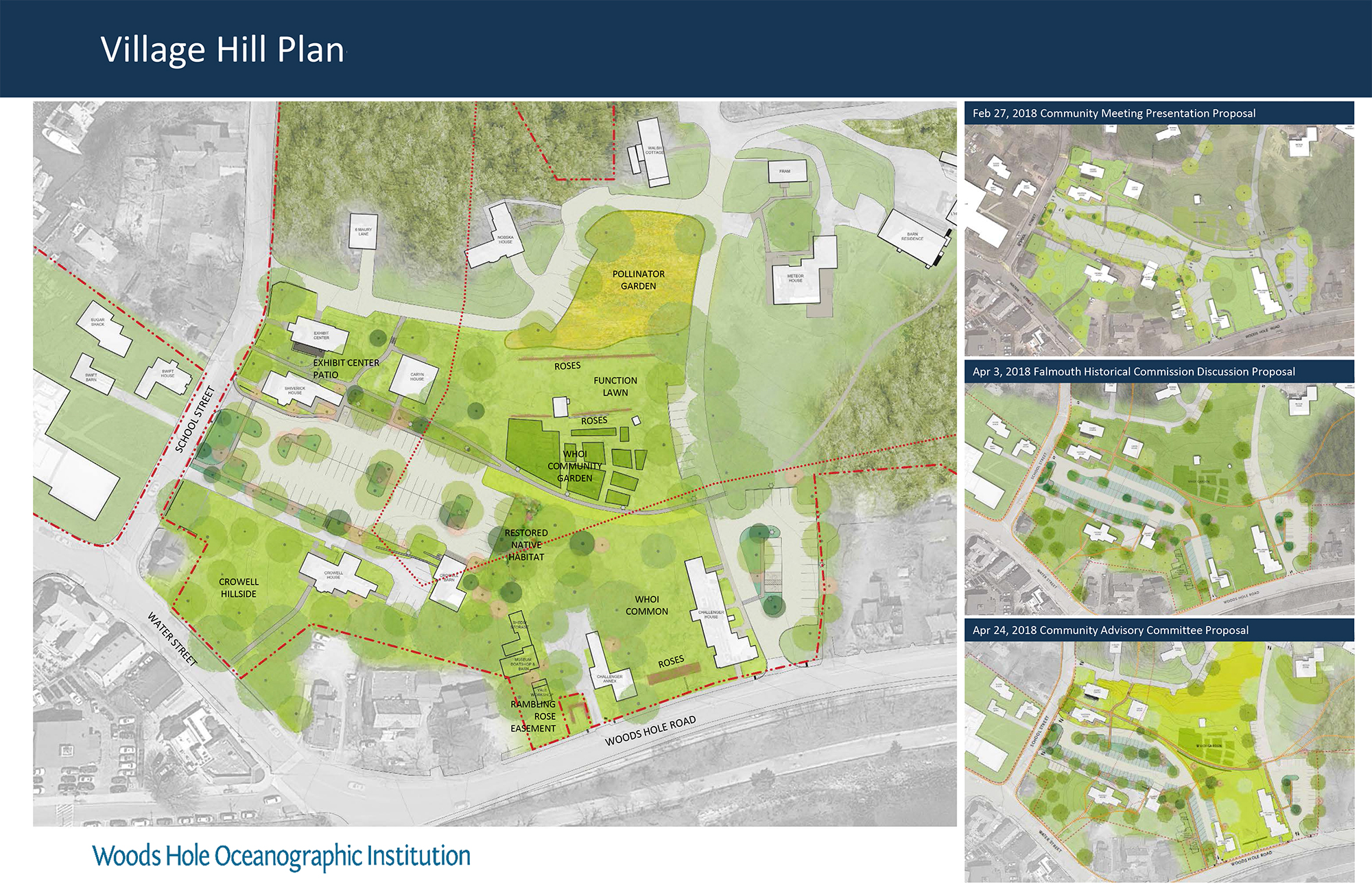 Among the interesting topics that emerged during several of our conversations was community interest in the habitat and biodiversity on our campus. Our landscape team has studied which plants on our campus are native, non-native, and invasive and has developed a plan to maintain and grow the appropriate plant population in order to remediate areas once filled with non-native and invasive flora.
Moving forward, we expect to protect and expand the Michael H. Walsh rambling roses that far precede Dr. Redfield's gardens. The rambling roses were part of the  Fay Family harborside estate (now called Challenger House) and are protected by a small easement agreement with the Woods Hole Historical Museum created in 1943  (see full story here). The roses are currently maintained by volunteers from the Woods Hole Historical Museum, and WHOI intends to expand the small memorial rose garden into a series of gardens that expand the roses throughout the campus to reflect the rich history of this site. This plan will also protect and beautify the set of community gardens currently maintained by active WHOI employees.
Throughout this process, it has become clear that access to our campus is important to the surrounding community.  I want to assure you that WHOI plans to continue the many official and unofficial partnerships that we have with the community in this regard.  We are proud of these many programs, including: use of the campus by the Children's School of Science, participation in the Woods Hole Public Library's Annual Monarch Butterfly event (a program that raises and releases butterflies into the environment), informal use of campus space for passive recreation (walking, study, etc.) and parking in our lots by adjacent businesses, non-profits and schools (by permit or agreement) during normal hours, off-hours and weekends. These and our many other investments in community programing strengthen and enhance the community fabric of Woods Hole.
This plan is the result of a constructive collaboration with the Woods Hole community.  As we continue to evaluate our facilities' needs and plan for the future, we must make smart decisions that support our mission and critical scientific work.  At the same time, we will continue to engage with our neighbors for input and advice.
We will share this plan informally with the Historical Commission today, Tuesday, June 5.  I hope that we can count on your support for this proposal as we move forward.
Sincerely,


Robert Munier
Vice President for Marine Facilities and Operations
Woods Hole Oceanographic Institution