This research expedition is intended to study the microbiology and chemistry within and around the hydrothermal vents, but our site in question, is so tantalizingly close to an oxygen deficient zone (more on what that is in a sec), that we can't help but be desirous of sampling this unique water. As luck (and a good deal of planning) would have it, we were just able to generate a depth profile through one of these oxygen deficient zones.
So, what is an oxygen deficient zone? Well, ODZs (as we like to simplify their moniker) are referred by many as oxygen minimum zones (OMZs), anoxic marine zones (AMZs), and nitrite accumulation zones (NAZs). This is all just jargon to refer to the same feature: areas in the water where oxygen concentrations are depleted to near-zero so that anaerobic microbes (those that thrive in the absence of oxygen) are able to function. One visible consequence in the chemistry is that nitrite, NO2–, starts to appear as a byproduct of the reduction of the most common nitrogen form in the ocean, nitrate (NO3–). Microbes will harness the oxidizing power of NO3– (see all those oxygen atoms in the molecule?) in lieu of molecular oxygen (O2) to oxidize organic carbon and gain the energy they need in order to survive. We'll be looking for these same processes in the vent fluids during the in situ incubations planned, but in order to traverse the ocean to get to our hydrothermal vent site, we sail directly above one of the only ODZs on the planet, the Eastern Tropical North Pacific.
Stefan Sievert, chief scientist and all-around science nerd, excited by the prospect of sampling water at a site within the ODZ, did not want to have this opportunity pass by. He chatted with the captain about making this happen but we were informed that it was unlikely because we needed to arrive at the vent site by 7am in order to start the daily operations on ALVIN (the dives take a certain—and extended—amount of time and you really can't be late). Of course, as luck turns out and due to pristine weather conditions, the ship has been able to make 13 knots of speed compared to its usual 12 knots, which may not seem like much, but multiplied over a 2 day transit, you gain a lot of hours. So, rather than arriving early and waiting for daylight to start the dive, we stopped to conduct a cast and use some of that "free" time for science!
An ODZ is a really interesting and rare feature within the water. They arise as a consequence of high productivity at the surface (fueled by intense upwelling of nutrients from deeper waters) coupled to sluggish physical resupply of oxygenated waters from elsewhere. When all of that plant material produced at the surface sinks into the interior (defined in our case as depths greater than ~100 meters—just a football field!), there is a huge biological oxygen demand that draws down all the ambient oxygen faster than physics can resupply it laterally. The consequence is a permanent and stable ODZ, where organisms are adapted to living in the absence of O2 and instead harness energy using alternate means. The next most energetically favorable reaction is called denitrification, the step-wise reduction of nitrate to N2 gas: NO3– → NO2–→ NO→ N2O→ N2. The main interests in my research group are on how these steps get decoupled and intermediates like NO2– accumulate in the water. To understand that, we sample the marine environment where such features exist in order to get a better handle on what is going on and investigate the geochemistry and microbiology of these regions in depth. Hence, the cast we just did. We sampled the water for a great number of parameters—nutrient concentrations, nitrogen and oxygen isotopes, gases, DNA, lipids, density, salinity—all in an effort to understand how the microorganisms are affected by and in turn reshape marine chemistry. Some of these parameters are measured onboard (NO2– and NO3– concentrations) whereas others (for example, isotopes, gases, DNA) need to be preserved and stored for analysis back in our home labs.
Even though we have to wait for many of our measurements, the shipboard data look great and we're excited by the whole story that will develop as we combine the different measurements to create a snapshot of what's happening in this region of the ocean.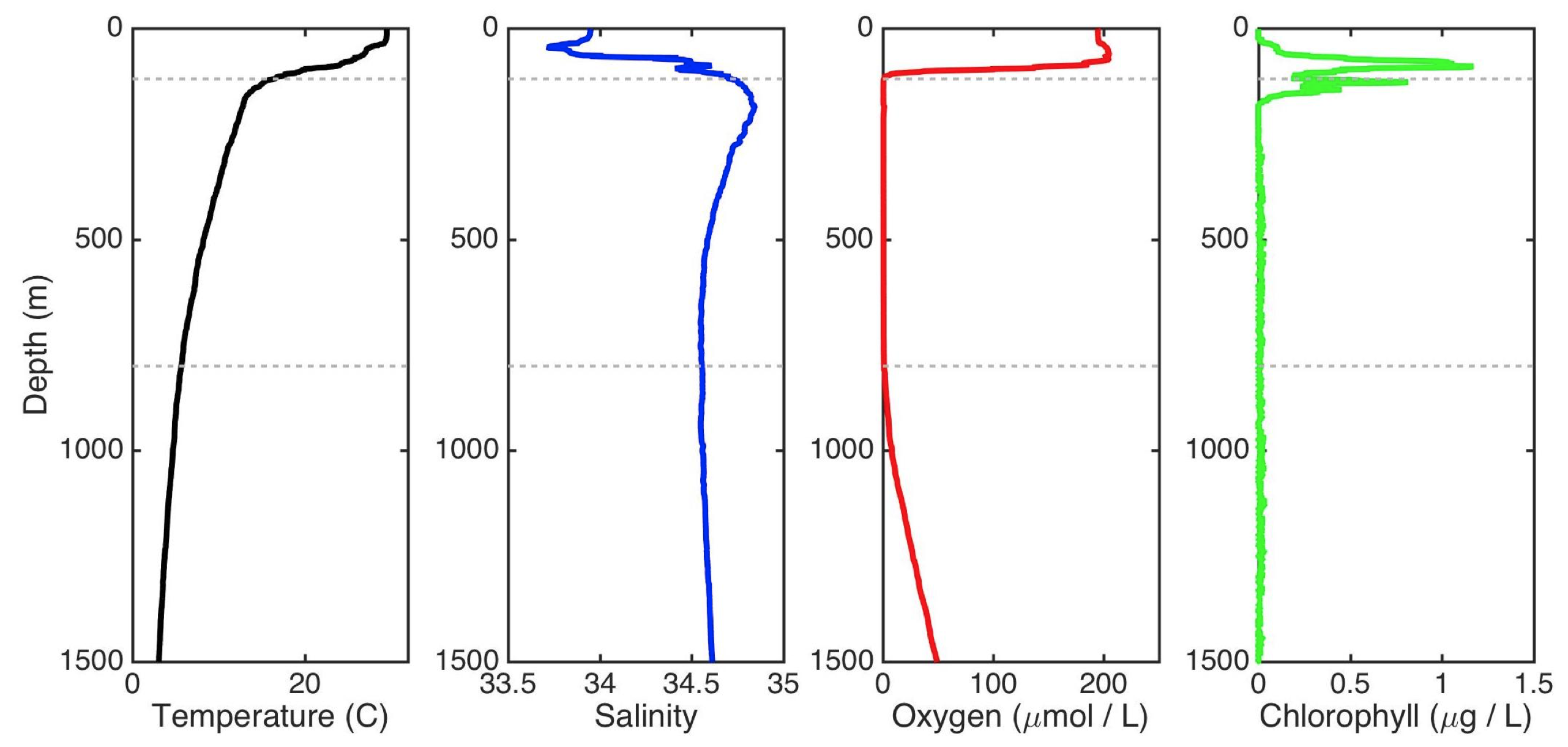 Vertical profiles through the water of Temperature, Salinity, and Oxygen and Chlorophyll concentrations
The temperature generally decreases with depth and salinity generally increases, yielding denser water as one moves downward in the water column. This is very much stable (the same principle is why oil floats on water!). Oxygen concentrations are high in the surface for ~40 meters because these waters are equilibrated with the atmosphere (which is 21% oxygen). Then, because of the stable physical structure based on density, the oxygen concentrations get rapidly consumed because organisms are "breathing" it without the ability to rapidly resupply from the air. The oxygen concentrations are undetectable between ~120 meters and 800 meters in depth, which is quite the swath of water! The dashed grey lines demark this swath of anoxic water. The chlorophyll concentrations show a double peak, one in the oxygenated water overlying the ODZ and another within the anoxic water. The anoxic cyanobacteria are specially adapted to living at negligible oxygen concentrations. We sampled for DNA at these peaks to try to figure out who is responsible for them!