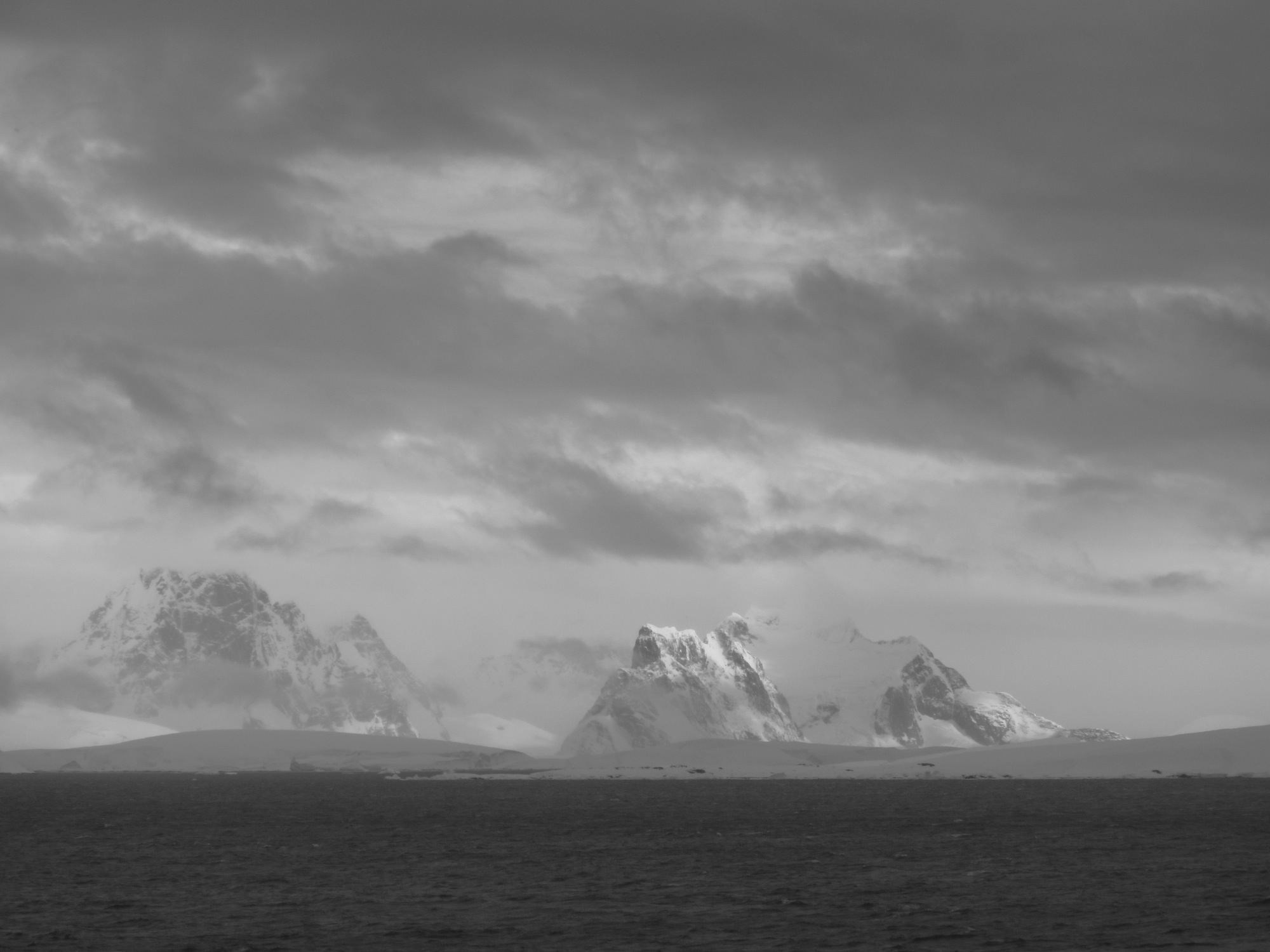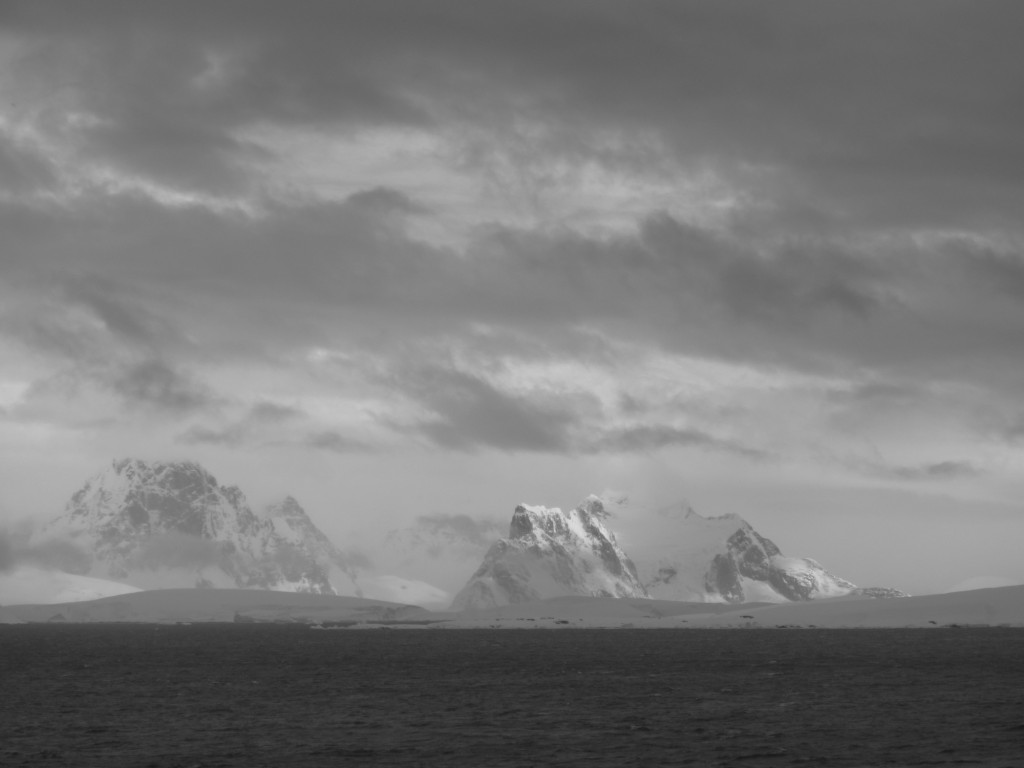 It felt good to be underway again. After taking in lines late on October 4, we pulled away from the pier in Punta Arenas and began making our way south aboard the Laurence M. Gould. Our four-day transit would first take us slightly northeast through the Strait of Magellan, before turning almost due south toward Antarctica. (Author's note: I've posted some more images here from the transit south.)
While transiting the Strait, the Gould was required to embark a pilot, a local Chilean ship captain intimately familiar with the tides, currents, and hazards of the Strait whose job it was to conn the vessel while in the country's waters. (Pilotage, a practice dating back hundreds of years, is compulsory in most similar waterways around the world, including in much of the United States.) Through the Strait and then down along the east coast of southern Argentina, the ride remained fairly smooth. Prevailing weather in this corner of the ocean this time of year is often out of the northwest, giving us a fine lee on the east side of the continent.
By late in the day on Saturday (Oct. 5), our luck had changed. Once past Cape Horn and in the Drake Passage, we were at the full mercy of the Southern Ocean. The conversation at the bar the night before we departed Punta Arenas had centered around a recurring debate among those who sail these waters: Would we find ourselves in a "Drake Lake," or would it be the rough "Drake Shake" for which this transit is infamous. By Saturday night, with steady north winds creeping up above 40 knots and seas building to 15 or 20 feet, those who were still up and about agreed the water beneath us was no lake. Then again, it wasn't the hellish ride I had been told to expect.
For those of us without assigned jobs aboard ship, fending off boredom during the rough transit was a challenge. When not eating or sleeping, some passed the time reading. Others took in an endless stream of movies on the big-screen television in the ship's lounge. (A
n eight-hour movie marathon on Oct. 6 featured back-to-back screenings of the three newest installments of the Batman franchise.) Many of us also took time to send some basic (i.e., text only) e-mail messages via the ship's INMARSAT satellite link. While connectivity at sea can be slow and cumbersome, it's still quite a luxury to have access to e-mail underway — particularly at such a high latitude, and in one of the most remote regions of the world's oceans.
From the moment I quit the active duty Coast Guard in 2009 and began sailing as a scientist, these "dead head" transits have always bothered me: I still hate being at sea without a specific purpose. In the Coast Guard, I stood a navigation watch on two cutters, the Forward and the Penobscot Bay; for two four-hour shifts a day, for nearly four years, I was responsible for navigation and operations at sea. I have very few regrets about getting out to go back to graduate school, but I do miss shiphandling. Having no responsibility for operation of the ships I sail on now as a civilian, makes me feel just a little bit useless when there's no science going on. This is one of many reasons I haven't been — and will probably never go — on a pleasure cruise.
My experience so being, I ultimately gravitated, as I always do, to the ship's bridge. There, I met the captain and crew of the Gould, a cadre of skilled mariners who brought to their jobs a striking diversity of professional marine experience. The captain, Ernie, is a 20-year veteran of the Edison Chouest polar operations fleet; he is a rabid Dallas Cowboys fan and can't be found much of anywhere aboard ship without either a Lone Star ball cap or bomber jacket. Drew, the chief mate, is Cal Maritime graduate who tried his hand at managing a stevedoring company before he returned to sea aboard the Gould two years ago. (Before that, he had sailed as mate on a series of tankers and freight ships.) Josh, a Texas A&M graduate, is one of the ship's engineers; this is his first trip south of 45 degrees south latitude.
And this was Steve's last trip as a merchant mariner. After 28 years in the Navy submarine fleet, Steve had applied for his merchant marine license and sailed a number of container ships, freight carriers, and supply ships before coming to work for Edison Chouest aboard the Gould. In less than a month, he would be hanging up his license "for good," he said, to retire with his wife to a small town in South Korea. (I imagine he'll have a difficult transition back to life ashore: Steve's "master, oceans unlimited" license, shorthand for master of vessels of any gross tons upon oceans, signifies he possess the highest possible rating one can achieve as a U.S. merchant mariner)
The big question on the bridge — and too among the passengers — was when we might see the first signs of sea ice or icebergs. Depending on the time of year and the prevailing weather for the weeks prior, the Gould had seen ice on past transits as far north as 58 or 60ºS. (Older navigation charts show a dashed line labeled "maximum extent of sea ice" that extends even further to the north, but anthropogenic climate change has reduced mean annual sea ice cover in this sector of the ocean so dramatically that those old approximations are now almost completely inaccurate.)
As Drew, the chief mate noted, the best single way to predict the appearance of sea ice is water temperature. (Icebergs are a bit more unpredictable.) While pure water freezes at 0ºC, seawater of average ocean salinity (S=35) freezes somewhere between -1.8 and -1.9ºC. Practically speaking, this means sea surface temperatures must generally be at least this cold to support sea ice formation. Of course, one might find sea ice on top of warmer waters — but it won't last long! As sea ice develops and thickens, it progresses through a series of forms; these forms bear the strange names (grease, frazil, suga, pancake, etc.) given to them by generations of mariners who have sailed for hundreds of years upon frozen seas.
Aboard the Gould, we hit sea ice on Oct. 7 at 62º46'S — some "suga" and a few small floes at first, then building into a solid expanse of pancake ice as far as the eye (or the ship's ice lights, it being nighttime) could see. The water temperature was around -1.65ºC, while the air temperature was 0ºC. Given the sea temperature, Drew concluded that this ice had not likely formed were we first encountered it, but had been carried north by prevailing winds or currents. The ship forged on through the night, the sound of ice scraping against the hull a rough lullaby.
When day broke on Oct. 8, we found ourselves in the inside passage of the Gerlache Strait, a narrow body of water between the Antarctic Peninsula itself and the thousands of rocky, snow- and icebound islands that lie to the Peninsula's west. Amid clouds and fog, the mountains to the west jutted straight out of the cold sea, as if a great god had sawed off the very tops of the Andes and cast them into the water. (This impression was somewhat accurate, geologically speaking: The islands are the southernmost extent of the same orogeny that formed the Andes.) A few flocks of penguins were sighted, along with several species of seabirds, including petrels, gulls, and the occasional albatross. Seals hauled themselves out small floes and icebergs as we steamed past.
At around 5:30 p.m., we rounded a spit of land known as Bonaparte Point and beheld Palmer Station. We had arrived at the small research community that would become our new home. Nestled on a rocky shoreline at the foot of the Marr Ice Piedmont, Palmer is on Anvers Island, a rocky, snowy, and ice-covered piece of land discovered in 1832 by John Biscoe. The anticipation that had been mounting for weeks — especially for those of us who had never before deployed to the ice — had come to an end.