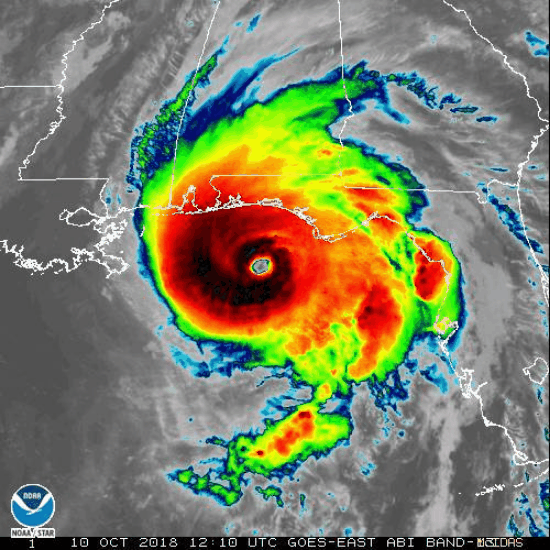 Michael made landfall at Mexico Beach, Florida as a category 5 hurricane in October 2018. The storm resulted in 16 deaths and about $25 billion in damages.
Two of our study sites, Shotgun and Mullet Pond, are located ~63 miles from Mexico Beach. We are interested to see if the hurricane would leave a deposit at our sites. If Michael did leave a deposit that would serve as a modern analog and provide insight into what conditions need to be present for a storm to deposit sediment into our sites.
In January 2019, we packed up our beloved field truck and made the 1,390-mile drive down to Bald Point State Park, Florida from our lab in Woods Hole. The field squad consisted of techs Nicole and Kelly, as well as our undergraduate co-op Lizzy from Northeastern University. Our main objectives included taking aerial imagery and recovering surface drives at two terrestrial sites, Mullet Pond and Shotgun, from our canoe coring platform.
What is a canoe platform, you ask? Great question. It is a versatile platform consisting of two canoes that sit parallel to each other with a gap in-between them. Each canoe has two pieces of plywood that connect to each other using brackets, providing us a flat surface to walk around on. The canoes are fastened together by two wooden crosspieces that stretch across both the transom and bow. Additionally, we use a custom made aluminum tripod/bipod that provides more stability as well as a point of attachment for retrieving longer cores that need to be pulled out of the mud via come-a-long. The three of us got a great workout paddling our vessel around our sites.
Mullet Pond and Shotgun are coastal sinkholes located within Bald Point State Park in Northern Florida. We recovered several surface drives at each location by pushing a polycarbonate tube into the muddy bottom. A homemade piston slides up the tube interior as we push down, allowing sediment to fill the space while keeping enough tension so the sediment does not slide out of the bottom of the tube. The process is similar to placing your thumb over a straw and 'coring' a milkshake. Surface drives are short cores that capture the sediment-water interface, preserving the most top layer. This is important because if overwash occurred at these sites, we'd expect the top layer to be a Michael.
Next, we took to the skies to see if there was any visual evidence of overwash. Drones are a tool we often employ to capture the surrounding environment of our sites. It was a bit windy and started to rain while we were flying so our flight was cut short. We didn't see any apparent overwash deposits breaching the barrier at Mullet Pond or Shotgun in the drone footage.
Rained out, we decided to make the short trek over to Alligator Point. A friendly local had mentioned that that area had experienced significant damage from Michael. Driving in, the road ended abruptly as the asphalt had been ripped up from the hurricane. As we inched the truck through town, we noticed that every house had taken a severe blow. Seawalls were gnarled and twisted, roofs missing, windows shattered, the beach was littered with stairways that once led to somewhere. It was clear that the area was heavily impacted by the hurricane. Mullet and Shotgun were a stone's throw away. We wondered, would we see any evidence of overwash? We won't find out until we open the cores up and acquire the grain size data through sieving back in the lab.
The drive into Mexico Beach was eerie. Not a single tree was left standing, buildings were demolished, generators were humming, and people's belongings were scattered across the landscape. It had been several months since Michael and the road had already been freshly paved. It was hard to imagine what the level of destruction would have been right after the storm knowing that recovery efforts had already been in effect for several months. Right on the beach, there was a row of townhomes where the end sidewall was missing. You could see right into the room, where the contents were perfectly preserved as if nothing had happened. We flew the drone to get a better sense of the landscape and were witness to boats littered in odd places, people rebuilding their homes, but mostly foundations where houses used to be. It was a humbling experience and a quiet ride back to our hotel.
The next steps include determining whether our terrestrial sites, Mullet Pond and Shotgun, captured Hurricane Michael. The results will be informative either way as it provides insight into what conditions are necessary for overwash and deposition. Currently, the cores have been opened up and are being sieved for grain size.